Shopping Cart Abandonment Tools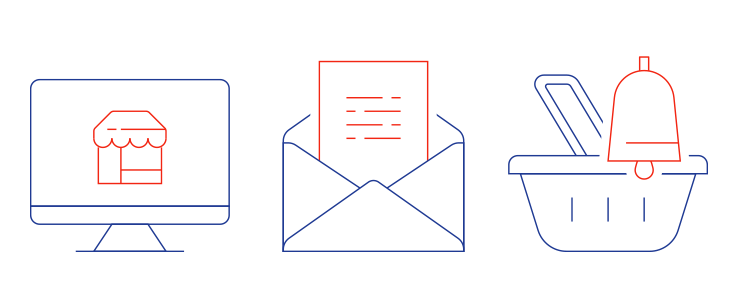 When it comes to shopping cart abandonment there's no reason for you to just accepted that 80% of your visitors will just abandon their shopping carts. That's why at r3engage we've created an online shopping cart abandonment tool to help you reduce your cart abandonment rate and increase your overall website conversion rate. To get started all you need to do is head over to our home page, simply fill in our quick online form, and we'll get in touch shortly after with a bespoke analysis of your website and the cart abandonment tool to implement, along with a predefined set of recommendations you can make to website to instantly help reduce your shopping cart abandonment rate.
R3engage Cart Abandonment Package
At R3engage, we offer various different packages depending on what level of service your looking for, plus there's no set up fee's for using our shopping cart abandonment tool, and getting started could be easier, we offer various different service levels, but for a brief introduction in shopping cart abandonment we'll break them into 2 distinctive parts:
Let R3engage Do the Work - That's right, at R3engage we will happily take on all the work load if you don't want to, or if you'd rather use our expertise in cart abandonment. This would include everything from initial setup, to site analysis, through to the creation of marketing materials and implementation.
You do the work yourselves - If you'd rather have full control over everything, and you know which direction you want to go in, then that's perfect, we'll simply generate you your personal line of code to implement on your cart abandonment areas and you're to do.
Cart Abandonment Success
We know everyone can be sceptical about the success of shopping cart abandonment tools, that's why we'd like to show you some success stories, some real case studies where R3engage has helped with shopping cart abandonment and helped increase the overall conversion rate of multipe online sucessfull businesses, please take a look at the case studies below for more information, and remember, you may be thinking that some of these numbers seem too good to be true, but remember with shopping cart abandonment, we are interacting with 80%+ of your website visitors, converting only an additional 5% of these users is still an amazing return. Find a couple of our shopping cart abandonment customers below:
The best thing about using R3engage is that you are given a month's free trail, that way you are able to see the shopping cart abandonment tool working for youself, and will give you even more free insight into the online activities of your shoppers. Make sure you don't miss out, start using R3engage today for you shopping cart abandonment, and start interacting with the 80%+ of your shopping cart users who aband their cart. - get started today!